Oh, how I wish you could! I really, really, wish you could just reach through your screen and pet the yarns in my shop (with clean hands, of course!)

A question I'm frequently asked is,

"how soft is this yarn? Is it softer than cheap acrylic yarn? Is it as soft as my favorite craft store yarn?"



Well, I do try to give you that info in the listings . . . but knowledge is power! So, I'm going to fill you in on the details about micron count, how I decide if a fiber is next to skin soft, and a quick overview of fibers I use in order of softness.



MICRON COUNT


No, not the techie kind . . . the fiber kind! Micron refers to a measurement - a teeny tiny measurement! - of the diameter of just one fiber. Finer fiber - or fiber with a smaller diameter - is generally going to be softer than a fiber with a higher micron number. So if soft is your thing, you're looking for a low number, not a high one. (Think baby fine hair as opposed to my wiry, coarse hair!)
HOW SOFT IS IT?


In my listings you will see the following descriptors -
Not next to skin soft - this fiber is itchy. It just is. Its still fun yarn, but don't make a cowl out of it. It might be best to use as trim or for an item you don't wear on your skin.

Next to skin soft for some - this fiber is just a little itchy if I lay it on my arm. It might not bother you one bit, but its just a little coarse for this sensitive skinned lime!

Next to skin soft for most - this fiber is a little itchy for my neck, but soft and lovely on my arm. If I were making something with it, I might not choose a scarf or cowl, but just about anything else would be lovely.

Next to skin soft - this fiber feels luxurious and soft, even on my neck. I might also call this yummy.

More than next to skin soft - I would bathe in this. Seriously soft.
You will probably notice that I like to work with fibers that are next to skin soft for most or softer.
*remember, each sheep or other cute critter will have its own style! This is just a general guide based on the samples I've gotten my greedy fiber mitts on.*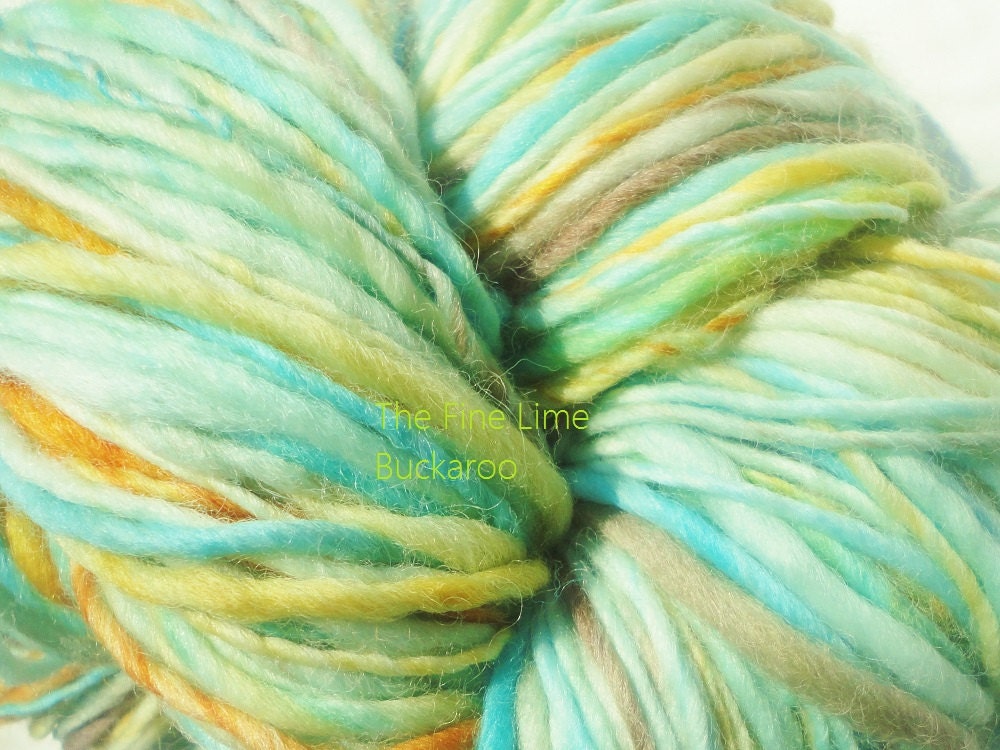 Corriedale/Domestic Wool/Superwash Wool/Jacobs/Shetland/

R

omney/Other Farm Wools - these are often nameless breeds, a mix of wools, or ones you won't have heard of. Springy and durable, they'd make great socks or other items that see a lot of wear and tear. These are usually in the 24 to 28 micron range.

Punta Wool - This is usually pretty soft! Its a blend of wool breeds from South America, and the batch I get does make a difference, but we're usually looking at next to skin soft for most or next to skin soft. This is my favorite economical option for people who are on a tight budget wanting to use handspun yarn. Usually Punta is 22 to 24 micron.

Superwash BFL Wool - sometimes the chemical processed used to make fiber machine washable also makes it a little less soft. See the next entry for more info about BFL Wool.

BFL Wool - Blue Faced Leicester wool is curlier than merino. It is just slightly less soft. It often has a subtle sheen.

Polwarth Wool - A merino bred with a little bit of Lincoln, this fiber is longer and curlier than merino too and just slightly less soft. The polwarth I purchase is usually 21 to 23 micron.

Ramboulliet Wool - Another breed with just a little longer fiber than merino, but just as soft. I've usually gotten Ramboulliet that is 21 micron.

Superwash Merino Wool - I usually buy superwash lambswool merino, but sometimes not. This will usually be just slightly less soft than merino, but if its lambswool, sometimes its just as soft!

Merino Wool - This is one of the softest wools I get my hands on. Most merino spinners use is between 18 and 22 micron.
Other fine wools I get to work with from time to time include Finn, Cormo, Targhee, and Columbia. These will often be as soft as BFL all the way to softer than merino.

Other luxe, insane soft fibers you may see include yak, cashmere,
camel, angora bunny, cria (baby) alpaca, silk, bamboo, milk protein fiber, and tencel.

I use alpaca sometimes. Alpaca can vary in softness. I try to get my hands on the soft stuff, though! (18 to 23 micron.)

Sometimes I use nylon. It can be crazy soft - like faux cashmere - or a workhorse nylon for sock blends

.



A word on sparkle - I personally find firestar less poky than angelina . . . neither are "ohmygoodnesscrazysoft" but sometimes you just need some sparkle!